This marketing analytical report provides you insights into your email marketing related activities. You can download both a template to run the report on your organization as well as a sample report filled with some data here.

Template


Sample report
Find more downloads here
This analytics report consist of the following report pages:
We will be adding more capabilities like key influence analytics and special topic lie forward to a friend and more
---
Common Pages
Every report features a set of standard pages provide inside in the data generated by your organization.
this article about the marketing analytical reporting framework.
---
The email marketing report home page
Each report include a filter pane on the left that lets you select quickly the relevant marketing activities to focus on. You can also chose the relevant time frame for your exploration.
The report home page gives you a quick overview on your core marketing automation objects, your customer journeys and email marketing messages.
You can define report wide data filtering here, select the data range you like to report on and limit the view to select customer journeys and marketing messages only.
An additional view show the timeline of your marketing interaction stream arriving from your audience which helps you to set filters and define what to look at.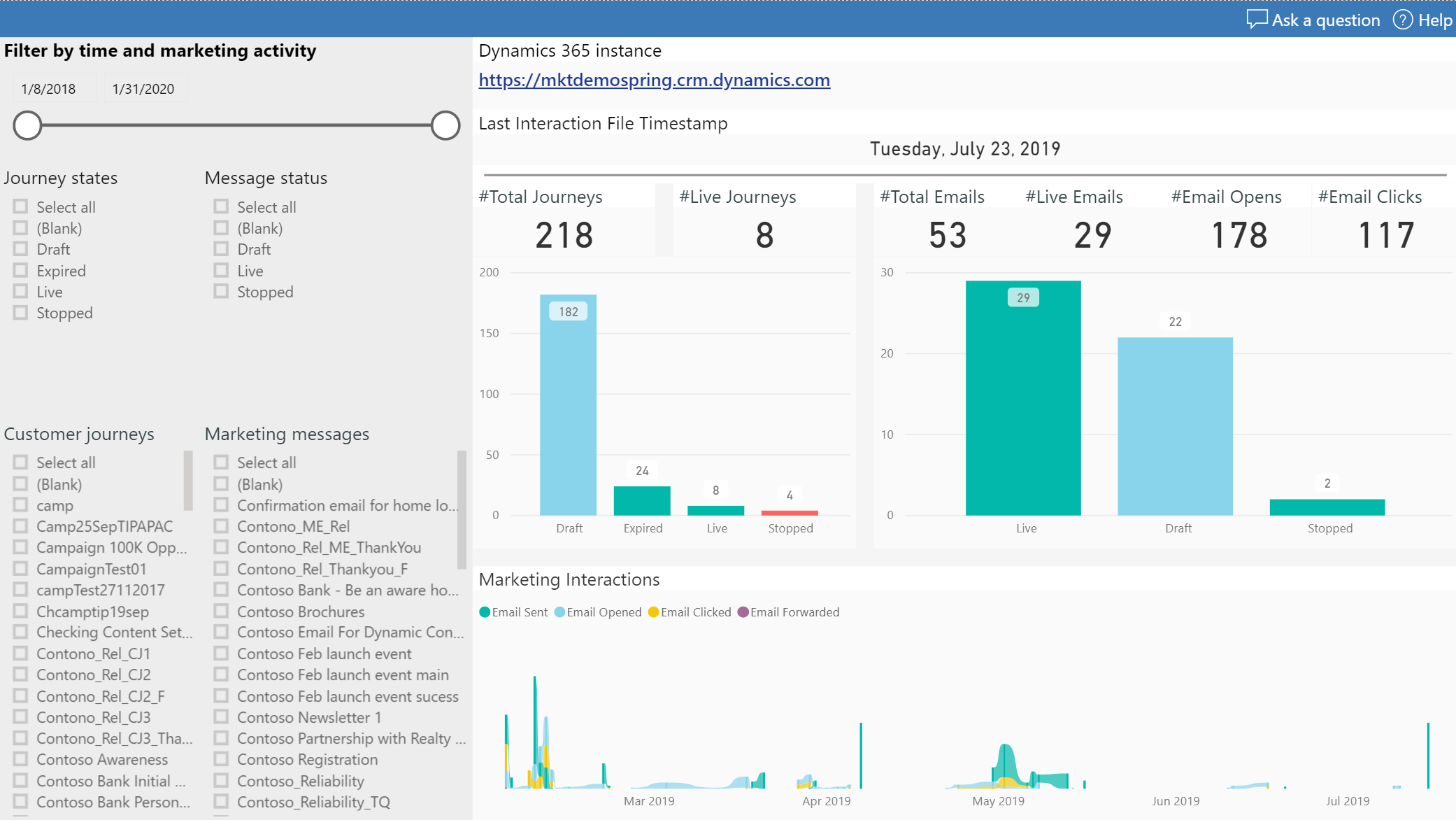 ---
The email marketing plan overview
The Marketing plan presents a Gantt view of your marketing activities
The plan also shows how frequently individual marketing messages are utilize in your customer journey plan.
The view retains the slicer filter you have selected before and carries additional KPIs for the scope of data you are looking at.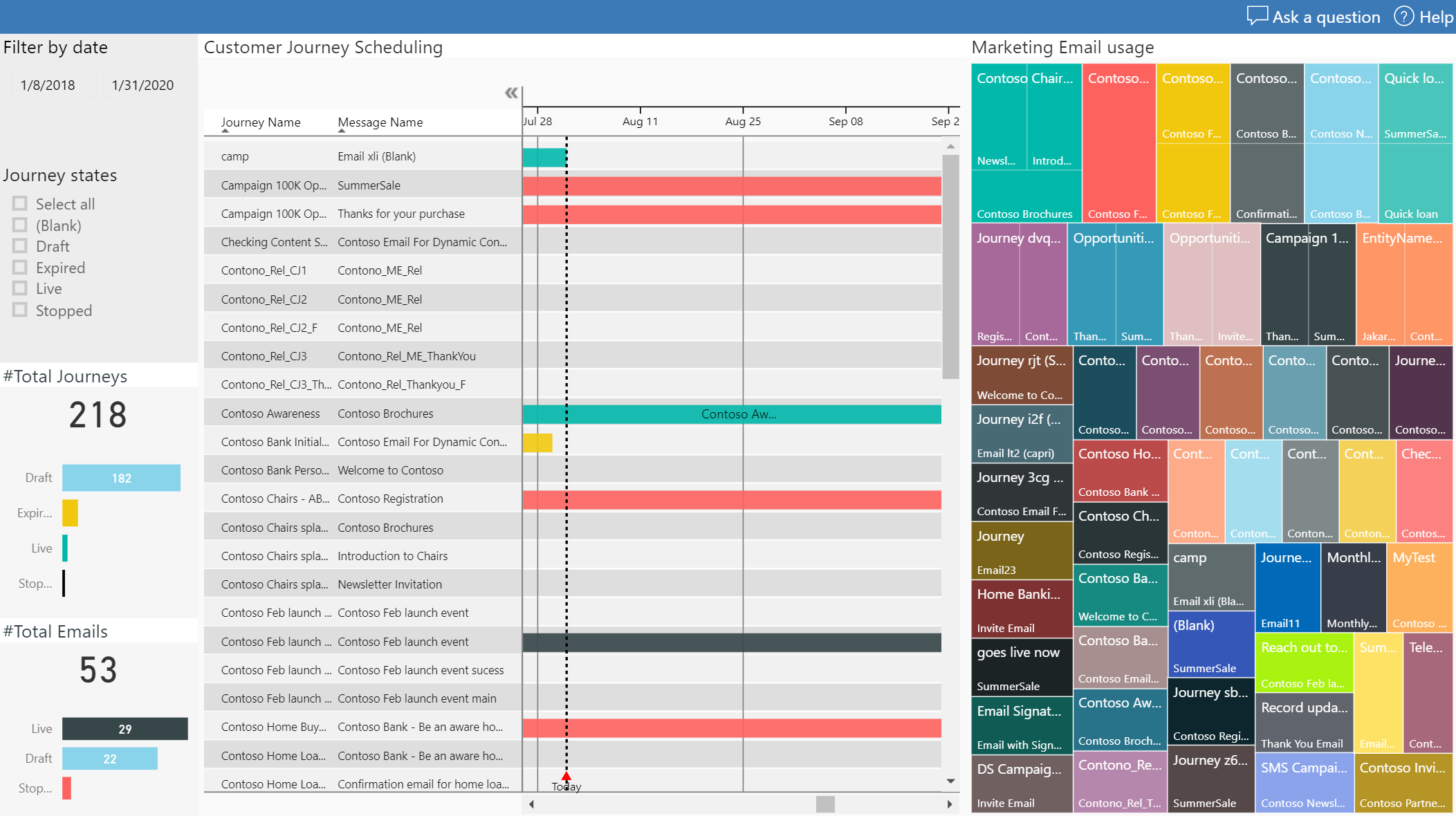 You can open each chart view in the report to full screen view to better study the data in it.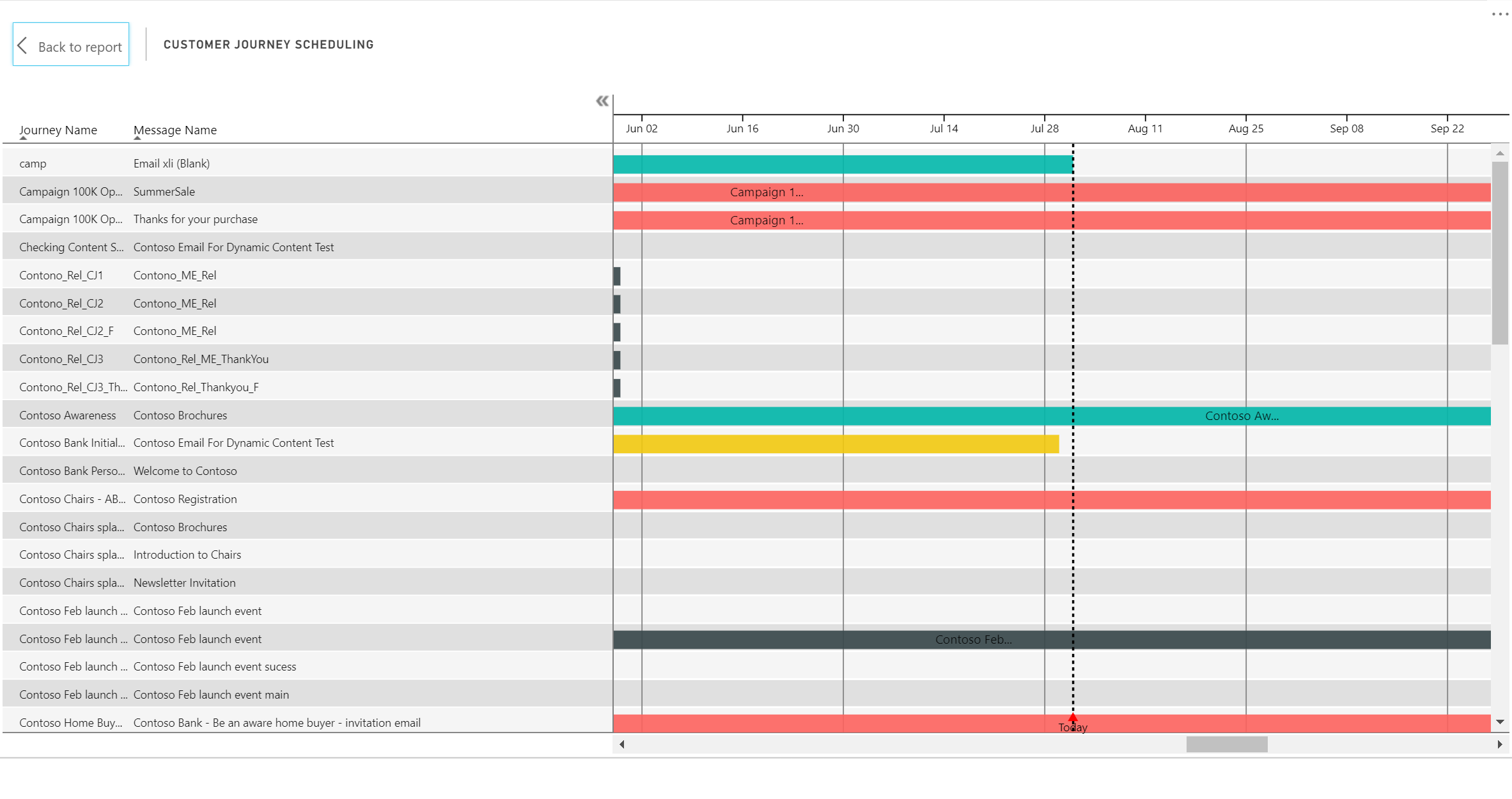 ---
Email marketing template usage report
The template report shows you which marketing message templates are being used in your marketing automation.
It can be important to assure that the correct templates are being used by the marketers in certain journeys. Select which journeys you like to check and see the number of messages used and the respective templates usage.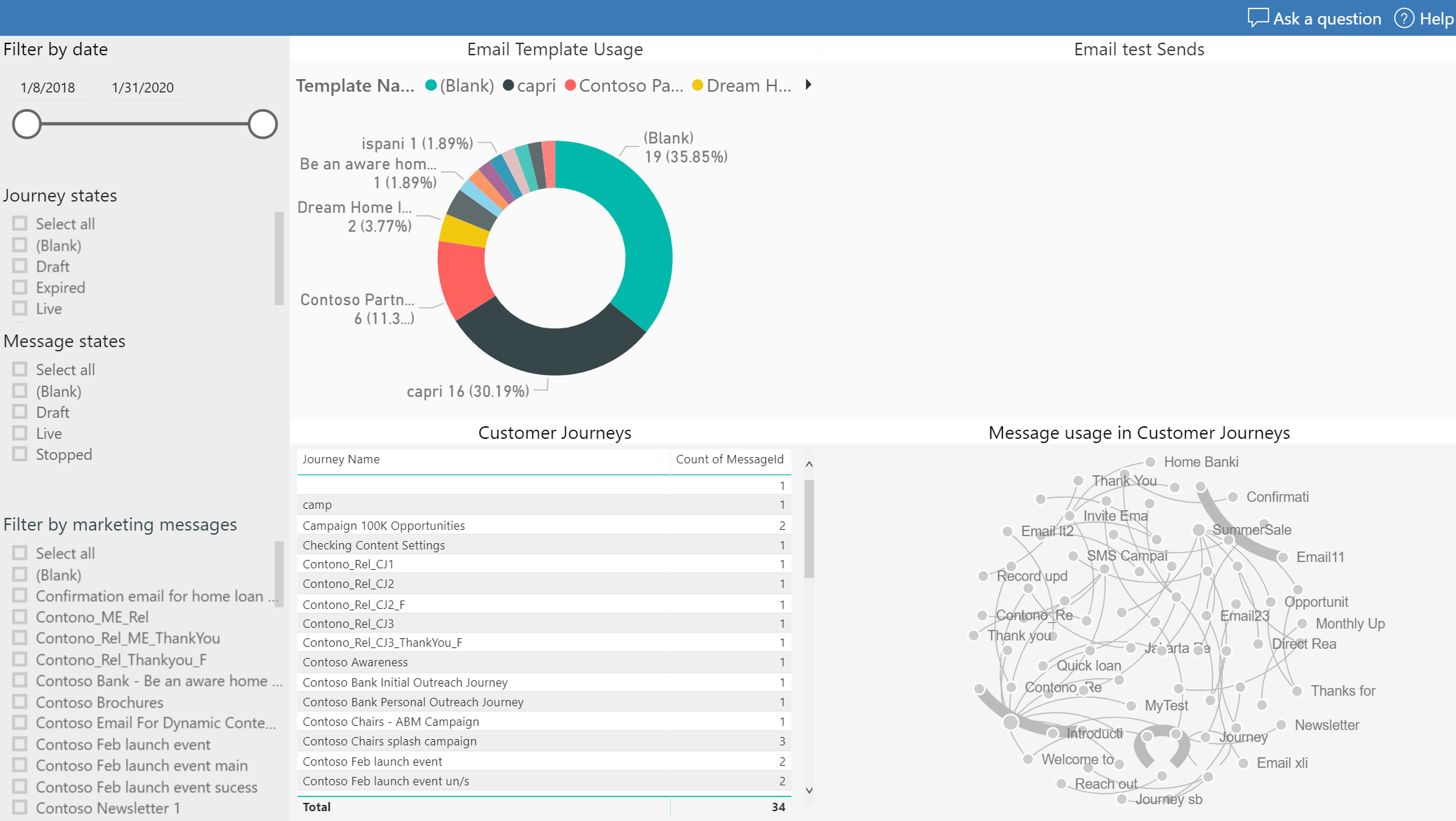 ---
Leaderboard – your most successful email marketing automation and messages
The leader-board shows you which of marketing automation and message perform best!
Find your best performing customer journeys with the respective email marketing messages ranked for different criteria: most unique opens, clicks and conversions (leads captured). Select the criteria, compare customer journeys or compare emails across select or all customer journeys in which the appear.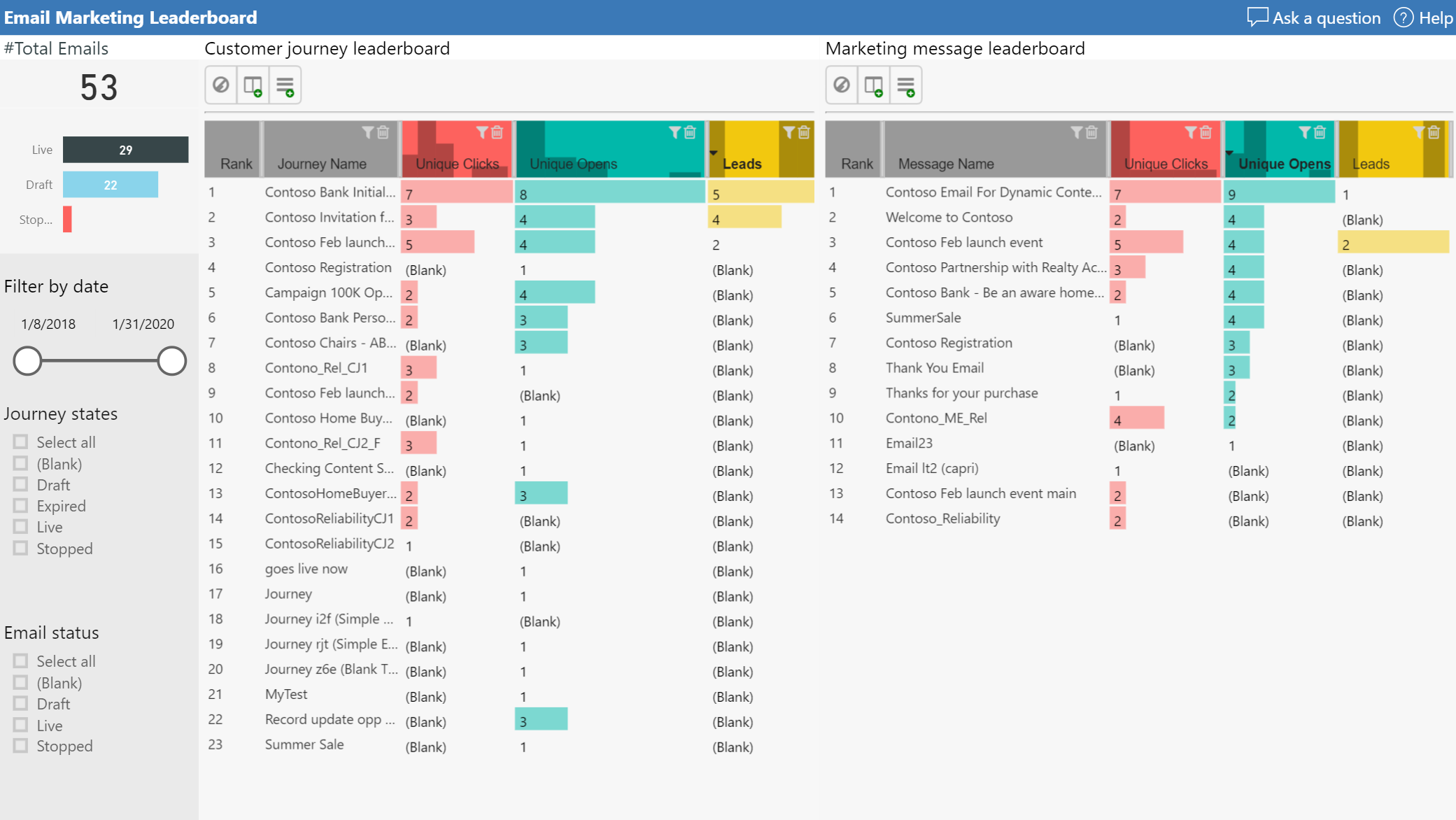 Please note that we also have a more detailed leaderboard report prepared that supports more fine grained leader analysis on more interaction for both your customer journeys automation and email marketing activities.
---
Detailed email marketing interaction timeline
The timeline view show the trend of responses and other email marketing related interactions over time. Select the charts for the different interaction to focus on the respective timeline. A few KPIs show the most opened/read messages, the messages with the most ink clicks and more.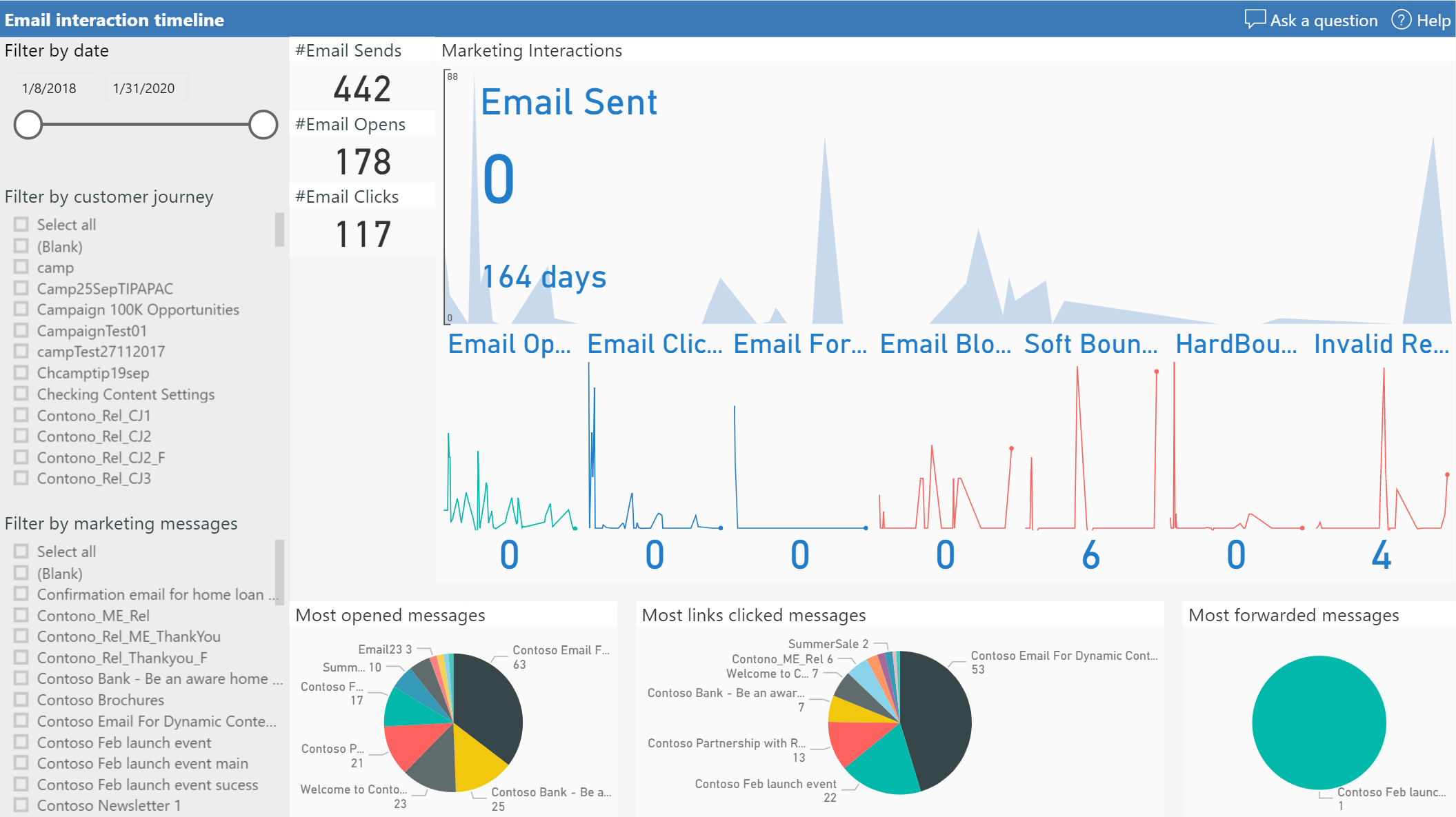 Geo mapping – see here where your audience is located
This reports shows on a map roughly from where on the planet your email have be opened and link clicks registered. The For this purpose the IP address of your audience had been converted into a rough geo-local location.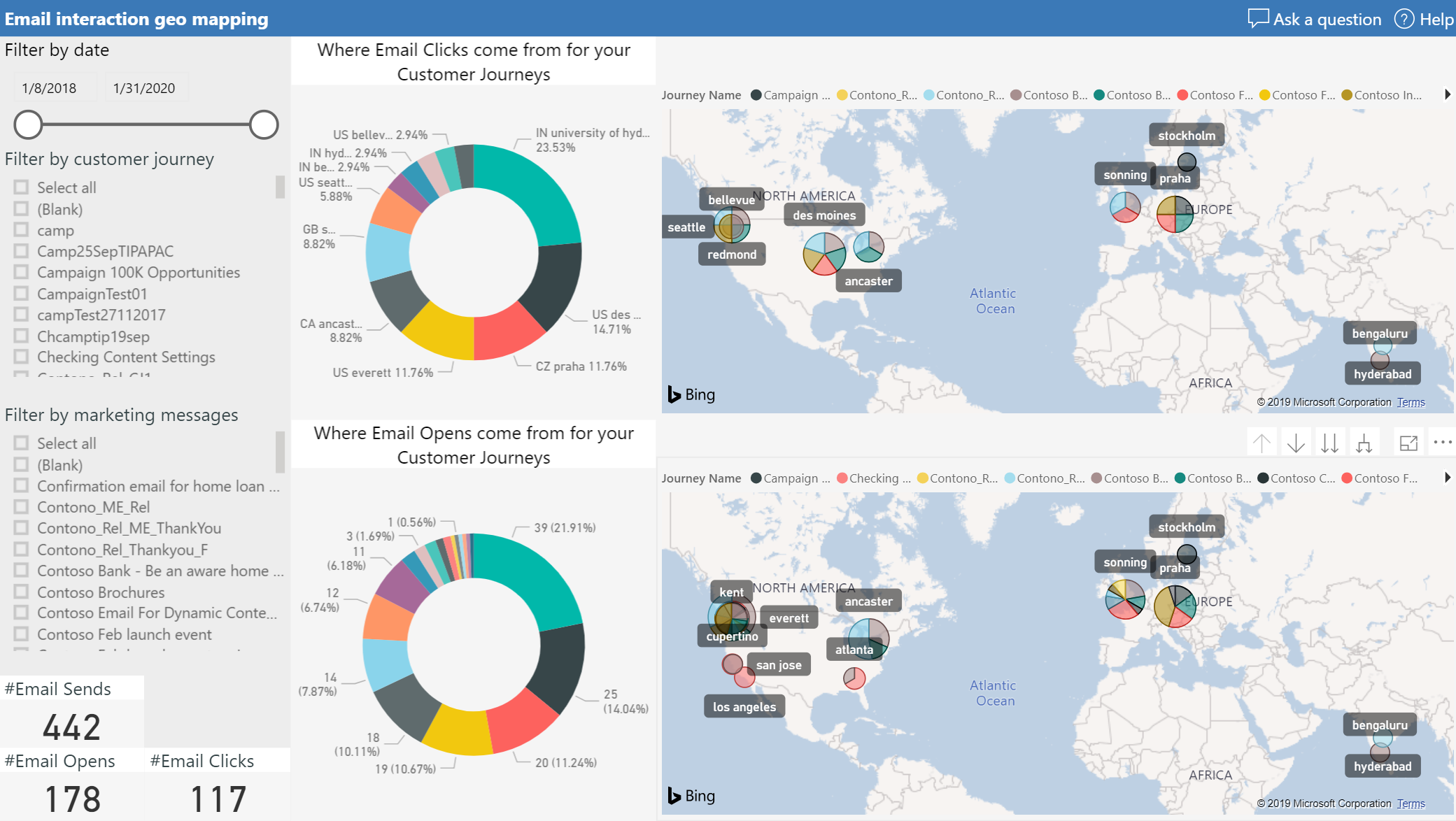 ---
Detailed break down of email links clicked
This detailed link click report breaks down which link had been clicked how many times and gives a ranking for your most opened links. A detailed click stream timeline shows the history over time.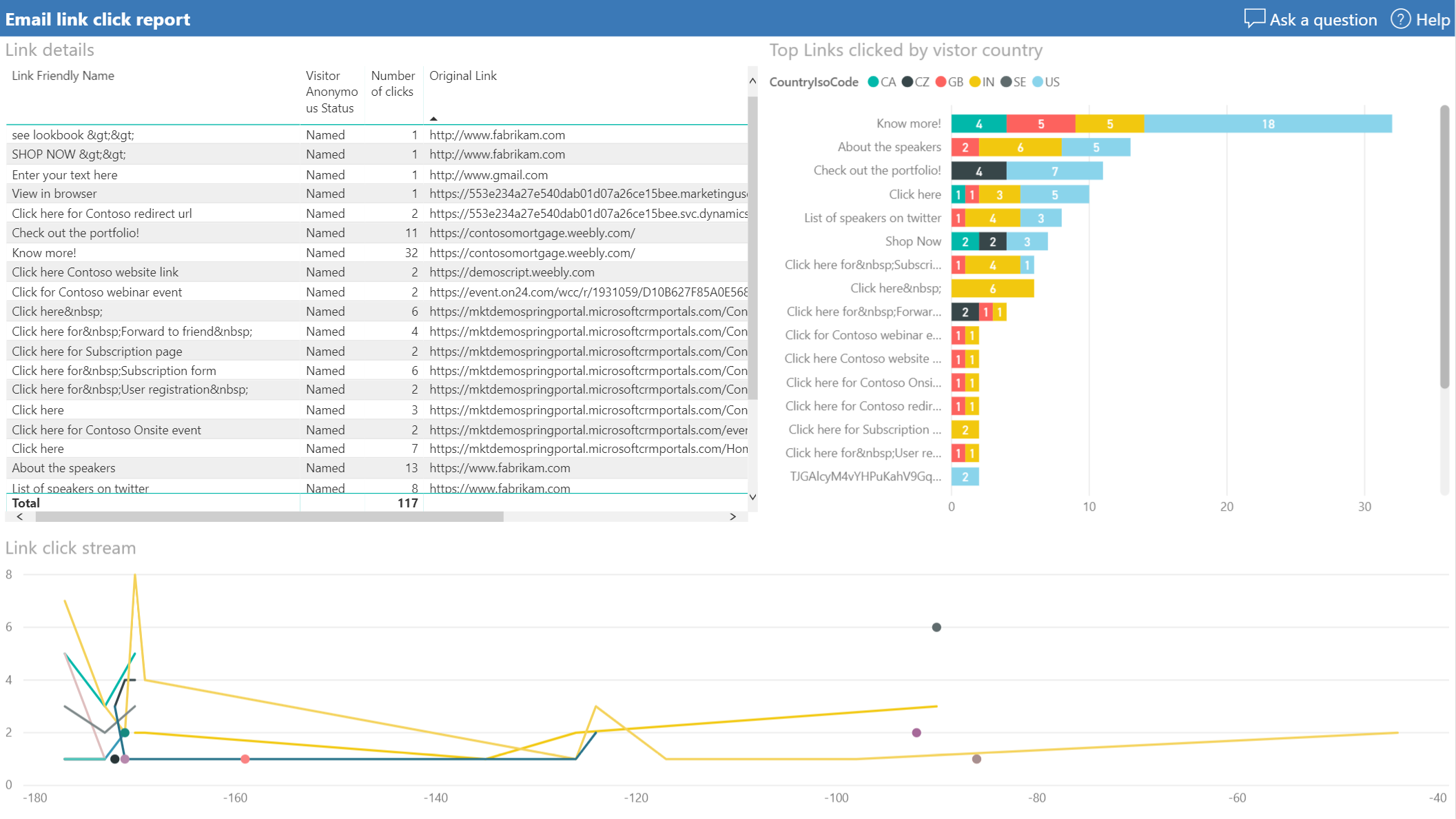 ---
Email sending failures and blocked sending
This important report shows all failures and blocked emails over time for all the different reasons that can be behind the situation where an email could not be delivered. A view per message allows to identify messages that are most relevant for you and reports on the failures in order to plan any required mitigation.